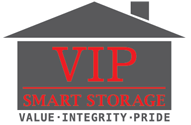 More than a name VIP Smart Storage is Value, Integrity, & Pride. Our ultimate goal is customer satisfaction. To accomplish this we uphold these three cornerstones in every walk of our business. From design and sales, to production in our shop, to customer support, our staff is friendly, informative, and honest. In these tough economic times and with heavy competition our success is dependent on these cornerstones.
We aim to provide the Phoenix metro area with the best Value, a comprehensive variety of quality products and solutions at an affordable & competitive price.
Integrity – upfront and honest we stand behind our design specifications, and hold true to commitments made to you, the customer. With a design center staffed five days a week, customer service and support are #1.
Pride – each and every member of our staff take pride in their roles in the company. You are only as strong as your weakest link. As a company we take pride in making mandatory rigorous training and education on not only our products, but industry standards, customer service, and ethics. Our employees care about what they do and they care about you, the customer.
A+ Rating Better Business Bureau.
Perfect Record with AZ Registrar of Contractors. ROC#322119 & 249444 Licensed. Bonded. Insured.
45 years in home improvement.
Must see "design center"!
Manufacturing direct from our factory to you.
State of the art computer driven woodworking shop to insure exact fit and edges of highest quality.
We use absolutely positively the best installers in the business.
VIP'S 3 PILLARS OF ASSURANCE
VALUE, INTEGRITY AND PRIDE… Our owners Dale and Marina Gerstenberger, personally guarantee satisfaction.